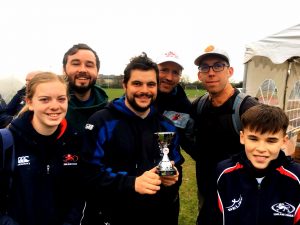 A fresh faced Bees team featuring some new faces playing their first Cambridge touch matches went in to the day with a positive outlook, hoping mainly to play some good touch and have a good time. Playing in the NTS Premiership Pool B (the 2nd tier, Elite being highest) meant that the opposition would still be very competitive.
Despite an early high scoring loss to Percy Park Pirates 8-9, the Bees were all smiles in the Nottingham sunshine. The attacking threat of newcomer Shem Harris was clear for all to see, bagging some lovely tries, and the morale was high having come so close to an experienced team. The two other games of the day went the way of the Bees, beating Green and Gold 6-3 and the table-topping Bournemouth Titans 7-5.
Finishing 2nd overall in the pool (on pts difference) meant facing the 3rd from Premiership Pool A, Crewe and Nantwich, the following morning in the Premiership Cup Quarters. After a strong start going quickly 5-1 up, the brave Bees eventually succumbed 6-9 to a fast paced Crewe team. Knocked down to the plate semi finals meant playing the same teams as the day before, winning the semi against Green and Gold 11-6, with eventual MVP of the tournament Thea Dawson racking up 4 scores.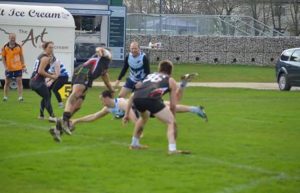 The plate final saw a rematch against the Pirates and another high scoring match that couldn't separate the two teams, finishing 9-9. In the drop-off the Pirates looked confident, scoring off the opening tap-off, but a slick diving score by Shem Harris on the right-of-reply meant the Pirates had tap-off in sudden-death. A great defensive effort by the Bees held out the Pirates, and off the back of a strong subbing play, which had worked well all tournament, they went the length of the field and through all 4 players hands to score in the corner (final score 11-10). A great match for the spectators saw the Bees win the Premiership shield, and the first silverware for Cambridge touch of the year.
The Salt and Vinegar Crisps Award for most tries went to Shem Harris with a whopping 10 (mostly diving!), but with 48 tries in the tournament and every single player scoring over the weekend, the all-round offensive effort was outstanding. Huge congratulations to the whole squad, and especially to Thea Dawson who, on debut for Cambridge, got Bee's MVP for some outstanding defence and finishing skills.