Just as Kat Jones picks up the European Touch Award for Senior Female Player she rewinds back just 4 months ago recounting her World Cup
Cambridge players help England perform at the World Cup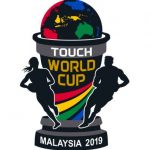 The Touch World Cup, which takes place every 4 years, is the pinnacle of the game for the English teams, and a fortunate number of players from Cambridge were this year selected to participate. The Touch World Cup 2019 was held at Taman Ekuestrian Putrajaya, Malaysia from April 29th to May 4th and 2500 players from 25 countries perform across 11 divisions and 6 days of matches. This 9th world cup was the largest to date and it certainly didn't disappoint.
After a winter of intense training, fitness testing and England camps, fifteen Cambridge players, five coaches, two managers and a referee were selected to represent their country at the world cup. Three women were selected for the Women's Open division (Rosie Cormack, Anna Goddard and Lucy Norburn, plus coaches Simon Clare and Jon Lovell), two in the mixed open (Matt Maynard and Sam Missin, plus manager Justin Missin), four in the Women's 27s division (Jamie Cone, Stan Franks, Sue-Ellen Godde, Kat Jones), two in the Senior Mixed (Glenn Jones and Tamara Slater, plus manager Hana Suzuki), two in the Men's 35s (Dean Hancock and Dan Lewis), and two in the Women's 35s (Emilie Eve and Lou Rickard, plus coach Rob Budd), not forgetting the Men's 40s coach Travis Kenny and Men's 45's coach Jo Whitehead. [This is not to mention all the players that have previously played touch with Cambridge – here we'll claim Sadi Musson (WO) as a previous Cambridge women's player, Emma Oliver (MXO) who first played for Cambridge in NTS finals aged 14, Jen Lee (W27) who first played touch in Cambridge and Jamie Ironside (MXO) who used to play for our Lions league team. We clearly taught them everything they know!!] This was a record showing for Cambridge at a world cup and the fact that nearly a quarter of the WC England coaches are based in Cambridge is great for player development at the club. For many of our players it was the first time they had performed at a world cup, so the experience was unlike anything they'd had before in terms of the quality of the opposition and standard of the refereeing.
But that wasn't the only challenge for our Cambridge reps, as soon as the teams had arrived in KL for the England roster, 3 days before kick-off, we realised just how hot the playing conditions were going to be. No number of acclimatisation sessions in the UK can prepare you for the soupy feel of the air in your lungs or the amount of energy doing anything costs! Fortunately everyone had trained really hard to make playing in the heat more bearable, and it was great to hear England referred to as one of the fittest countries at WC. The England sides also had training and warm up matches at the Alice school for two days before the start of the tournament to help with getting used to the playing conditions. Most notable was the continual need to drink water and electrolytes to stay hydrated. However, for anyone that remembered playing in the WC 4 years ago in Coff's Harbour (how could you forget?!), as long as it didn't rain and interrupt play with the worst weather in 30 years, our players were going to be happy!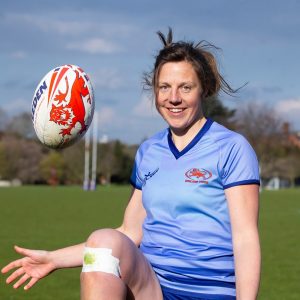 The World Cup opened with a bang (quite literally) as our teams were treated to a demonstration both by an acrobatic troop from the Malaysian armed forces and a display of traditional dancers (coverage of which is still available on YouTube). The tournament was staggered for the different divisions so for some teams games commenced immediately (W35s and SMX), giving others the opportunity to watch some quality touch. Many of our teams had matches over the hottest part of each day, presenting a unique challenge, both from the temperature (which at one point reached a mind-boggling "feels-like" 51.9 degrees suspending play for our W27s on the show pitch), but also from the strategy of playing a match over quarters, rather than halves. Tactics when playing quarters in that temperature are quite different, so the Cambridge coaches gained valuable experience from the point of view of interventions and managing their squads. Over the course of 6 days our players played fantastically well with 6 winning medals in the W27s and W35s divisions and 5 just missing out on medals as their teams lost their bronze medal match to come 4th overall. Our opens sides all did really well as well with two 5th place (WO and MO) and a 6th place (MXO) finish, helping team England to retain their overall ranking of 3rd in the world for the second WC in a row. Notable performances in their sides go to: Dan Lewis and Lou Rickard who got the M35 and W35 MVP respectively, Matt Maynard and Sam Missin who played every match and didn't miss a game (earning them each 11 caps) and Anna Goddard who needed a drip 4 times for heat exhaustion!!
On that note, it is important to recognise how excellent the England medical team were over the course of the tournament. Every player was required to weigh in and out before and after a match to monitor fluid loss and so they could rehydrate with the required fluids. Each team had a physio looking after them and the moment anyone started showing signs of heat stroke, they were whisked off to the giant ice pool in the England air-conditioned tent, before more serious medical interventions took place if required. Fortunately that didn't happen very often! Our medical team were the envy of the tournament and it's testament to their care and attention, that almost all squads were fully fit by day 6, ready for finals – of course I'm sure that gave the coaches more of a headache over finals selection!
As with every world cup, it's all about getting to finals day, and the touch football that is played in those finals is some of the best you can ever watch. It is certainly a great privilege to be able to watch the open divisions' finals played live, and this year's fixtures did not disappoint (if you didn't catch them, they are available for a short time longer on the BBC and ad infinitum on YouTube). Each of them was an Australia-New Zealand match, and for each, gold was taken by Australia, though each was a tight, well fought game. Our M30s were disappointed not to get to the final this time and the W27s, widely thought of as the strongest team England have ever entered in this division, were sorry not to get a second pop at NZ in their semi for a place in the final. Our W35s played a superb game of touch against NZ in the pool stages, losing 3-1, suggesting our age divisions teams are catching up. But in 4 years' time at the next world cup, it is the open divisions where England want to grow and dominate. This will come from the hard work the ETA are doing to get more and more young people playing our sport. It was fantastic that Cambridge had 5 reps in the opens division, three of whom were 18 or under, and it is the development and experience of the young Cambridge players that will ensure that touch in Cambridge and on the national stage continues to be successful into the future.
Katherine Jones