This September, Cambridge Touch waves goodbye to one of its longest standing members and stalwarts of the Cambridge and English Touch scenes – as well as multiple European Championships and three World Cups.
After nearly two decades in Cambridge, Shane Hills and his family are heading "back" to New Zealand, a well-worn path for many of our Touch friends over the years.
Shane has been one of the cornerstones of the Cambridge Touch Association, pretty much from the beginning of Touch Rugby in Cambridge, starting off as a player, and then also as a referee. Shane's contribution, on and off the pitch, is one of the reasons Cambridge Touch is one of the main centres for playing and refereeing Touch Rugby in England.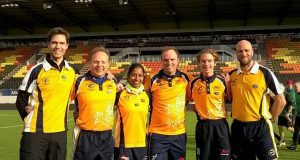 Whether it's turning up on a wet Saturday in February to help referee training sessions, or delivering a referee course on a sunny, Sunday afternoon, Shane has been there and willingly given of his time. We are really going to miss you Shane. We know you're going to keep on playing and reffing back home in New Zealand.
Let's hope some of us can play, ref and have a beer with you again – somewhere, sometime. Wishing you, Marie, Carter, Erica and Clara all the very best for your next big adventure. Take care mate.
Following photos curtesy of Colin Hullett
https://colinhulett.zenfolio.com/